I'm joining Shell at
Things I Can't Say
and pouring my heart out.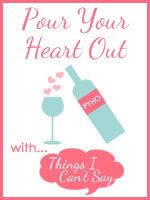 I hadn't planned on talking about this (at least not yet), but it weighs on me and I figure I might as well
share it. Today I'm pouring my heart out about the decision of
staying in or getting out
. I
cannot and will not
speak for my hubby, so everything I write below is solely my own thoughts and opinions.
For my MilSpouse readers, maybe you've made this decision, maybe it isn't a decision you'll ever grapple with, or maybe you don't talk about things like this.
For the civilian readers, I am always baffled about how so many people manage to live "in the real world" and make it look easy to survive there.
Why am I finding myself having this internal debate now? We just finished our third deployment. My husband has been gone for almost half of our oldest son's life, and he missed over half our youngest son's life just on the last deployment. I've seen the strain that is putting on my children in their interactions with their daddy and also how it affects their personality. I'm getting tired of being disappointed. I'm sick of having bad timing for everything in the Army. Because of the bad timing, we are quite possibly looking at deployment number 4 in about a year. I always have hope that we'll get a say in what happens next in hubby's career, but that never seems to be the case. A more trivial reason would be that I've always wanted to buy a house with the intention of keeping it for more than 3 years (and not renting it out). Growing up I dreamed about raising a family in one home and leading a normal life to include family dinners and holidays spent together.
For the past 7 years the Army has been our life. It has given us many great opportunities and a very decent life. I am able to stay at home with my children, which is something I do not want to give up no matter which path we take in life. But has the military life given us enough to continue on this same path? I don't know. I think part of the reason we never really contemplate getting out is the fear of the unknown. We're so used to the Army world. I consider getting out to demand a great leap of faith: faith that you will find a job, faith that you can support your family in an uncertain world, faith that you will end up in the right place, and faith that you will not regret the decision.
One of my biggest fears about getting out is realizing that I suffer from the "grass is greener" complex where I always look at the other side and think it is better. Ultimately this decision will be my hubby's. Of course he will take my opinion into his decision, and he will choose to do what is best for the family. I will support him in whatever he wants to do, and I will not force him either way. While I leave it in his hands, that doesn't mean I do not struggle with it also. I don't know what the decision will be, only time will tell. We have a lot of time to think, and that is exactly what I'll be doing.