Where should I begin? There is so much to say and some photos to show you.
First, I'm going to link this post up here: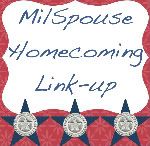 If you have a homecoming post, let me encourage you to link it up now too!
Okay, so here our story goes.
I knew for a few days that Pat was scheduled to come in on Thursday night. Homecomings around here involve buses to the hangar, ceremony, more buses, strip maps to a new location, and then waiting for your Soldier to be released. So I expected a long night. Thankfully the flight was on time.
I put the boys down for a late nap on Thursday since it was going to be a late night for them. We're supposed to arrive at the buses 2 hours before the ceremony, so after dinner we got our clothes on and headed out.
Here are the signs the boys made. Sean did the hand print high five one, and Ryan made the eagle. Aren't they cute?
I also made a sign. I made it weeks in advance. I guess you could say I was anxious.
So what did I end up wearing you ask? When I had asked on my blog about what to wear, a couple of my wonderful blog friends recommended I look at
Shabby Apple
. I looked around there and fell in love. I saw a few dresses that were great options, but then I was worried about shoes. I decided to see what I had in my closet, and I found some long forgotten shoes that might go with one of the dresses. I tried them on and was in heaven. They were so comfortable that I knew I had to wear them. I ran back to the computer to order the matching dress.
The shoes:
Here's one of me in my dress. Don't mind the awkward posture that makes me look fat, I was having to bend down so I could fit in the picture.
And some photos of me with the boys before we left.
And off we went to the hangar, where we waited patiently.
The boys loved running around the hangar, playing with the other kids, and listening to an Army band. Eventually we were told the plane was 15 minutes away, and we could go to the flight line to watch it land. Ryan was getting pretty excited. Sean on the other hand didn't want to be held and wanted to keep running around. So while we waited for the plane, I was wrestling a screaming 1.5 year old the entire time.
Here is a picture from
The Leaf Chronicle
of Ryan waiting for the plane:
After the plane landed and Soldiers started coming off, we headed back inside. Sean wasn't going to take much more waiting out there. Here is a photo from
Clarksville Now
.
Finally the Soldiers were coming in, and the following photo from
The Leaf Chronicle
was one of the most special sights of the night. Some of our Top Guns wounded warriors led the Soldiers in. I want to make a note here though so that everyone realizes, we have many more wounded warriors from our unit that are not in this photo because they were not able to travel for the homecoming. This photo represents why we are all so proud of our troops, and it shows the sacrifices they are willing to make for us and our freedom. Even looking at it and typing about it now makes me tear up.
And finally they were released to spend some time with us. I didn't get any photos of our reunion. It was hard enough handling the two boys. But
Clarksville Now
posted this photo of Pat holding Ryan. Both boys had a great reaction to the homecoming.
After about 15 minutes the Soldiers were called away to go turn in sensitive items. We took the buses back to our car. Then we went to BN to wait. It was almost 2 a.m. when we were home. The boys were exhausted, but happy.
Words cannot describe the joy and relief of having Pat home. We are finally a whole family again, and for that I am so thankful.